The final confirmation of the UK's exit from the EU may have come over a busy Christmas period but since then the country's trade negotiators have been busy looking to the future. And the first step along the post-EU road will, or so it appears, take the country in the direction of the world's newest emerging free trade group.   
The idea behind the Comprehensive and Progressive Agreement for Trans-Pacific Partnership – or CPTPP – emerged a decade ago as a way of providing a counterbalance to the growing economic power of both China and the EU. With members including Australia, Canada, Japan, and New Zealand, the bloc represents over 500m people and aims to create a tariff and barrier-free trading group to make international trade smoother and more efficient.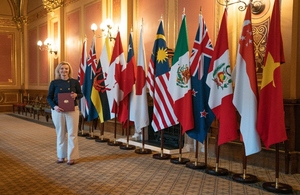 And it certainly has its fans in the UK government. "In future, it's going to be Asia-Pacific countries in particular where the big markets are, where growing middle-class markets are, for British products," International Trade Secretary Liz Truss recently said. 
"Of course, British businesses will have to reach out and take these opportunities, but what I'm doing is I'm creating the opportunities, the low tariffs, removing those barriers so they can go out and do that."  
However, it is worth pointing out that the impact – at least initially – will be modest. The UK already has trade deals with seven of the 11 nations – and is pursuing two more. In total, CPTPP nations account for less than 10% of UK exports, a fraction of what goes to the EU.  
But it does suggest that the UK is serious about pivoting away from Europe towards a more global outlook, with the focus on strengthening ties with some of the fastest-growing economies in the world including Brunei, Chile, Malaysia, Mexico, Peru, Singapore, and Vietnam.  
It also suggests that the existing bridge between the UK and Aus/NZ will continue to be a vital link. And for those companies looking to expand into the UK, the journey should be a smoother one, as obstacles that were previously in the way of making the move are removed.  
Whatever your situation, we can help you on the journey. It pays to have the right advisers on board to help you set up in the UK. Paul Beare Ltd has been helping businesses like yours for almost a decade. Whether it's tax and payroll or accounting and banking, we know where the likely bumps in the road are, and we can go with you on each step of the way.